141030 SINOPALE 05 Clusters and Crystals, 13 – 25 Juli 2014, Radio Three Terzi
"Clusters and Crystals
Observing at Point Zero"
"We undertake to Observe at Point Zero drawing on the genealogy of a method in which "no universal cartography exists", in order to open up a field of generative pragmatics in which art practices can be seen as transversal tools for social change that can dissolve in the existing context as they externalize and modulate it and can productively cast new bridges to reconnect the land-space-town.
Clusters and Crystals both refer to our immaterial and environmental commons and the "immeasurability of the common, which constitutes the very fabric of the making and unmaking of being. [218fde]
¨¨
5th Sinopale
International Sinop Biennale
12 July to 31 August 2014

"Sinopale is an event-driven, process and site oriented biennial. It is important to us to emphasize its experimental character which encourages art practices to bring forth new modes of production, experience and circulation between the field of art and daily life, inspired by locality and its place. Sinopale consists of a multitude of events of different formats. The main Biennial exhibition takes place in the Hal market hall, as well as various alternative
venues."

Radio Three Terzi

Micro Power Radio Performance
Hal Binasi Market Hall
Sunday 20 thru Tuesday 22 July 2014
[3abfd6]

"Observing at Point Zero explores the relation between energy and knowledge within space/place and time."
Dimitrina Sevova, Excerpts From The Conceptual Framework
"The energy of a space perpetuates the effective nature of the substantial reality of the space, as space is a product of energy, and in its turn, space produces energy, back and forth."
[audio:http://www.wegorythm.net/wp-content/uploads/2014/10/140716_Live_Recording.mp3]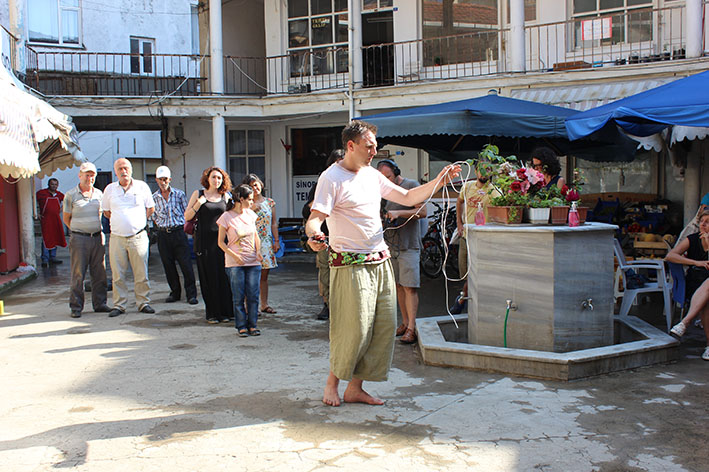 Terzi in Turkish means Taylor, for the coincidence being, that at Hal Binasi Market Place, four different Taylors have set up shop on a regular basis, and that being comprised of the citizenry of Sinop, they went about their daily business as usual, which also ended up having some further reminiscence in the Audio Sample I was using to implement the Radio Signal but really all came together out of mere chance, when aquiescing the Radio Equipment we used and that came from a number of sources that we found during our investigations into the everyday in the City of Sinop, Turkey.   [e8842c]

The cheerful and engaged excitement of all fellow artist, participants and volunteers, mixed in with the curiosity of a local public perhaps not so familiar with the confrontation through art but all the more enthused about it, made the vicissitudes encountered in the experimental character of play together with the implementation of electronic circuitry in DIY technologies to match up defunct Radiohardware and that proved a tricky strategy not only on a technical level, but due to unpredictable character or nature under the given circumstances of outdoor play, where wrecking mayhem with my well beforehand had intentions and expectations, with which I arrived in Sinop by plane.


For instance during performance, as I waited desperately for the Radio signal to appear and nothing happened, the extent to which I forgot to even "perform", least to talk about an actual dance, my personal bewilderement grew from one instant to the next until it became almost unbearable to think of it in terms of "artistic practice". With other words, I never attained what I was looking for in the test drives, but instead the performance became a kind of improvisation that grew out of desperation for a lead, in my perception at least, it became a total hit and miss kind of game. What was most surprising then to me however was, how the audience reacted to it.
The endearingly personable responses, cheers and even critical reviews of the event made me spellbound. How could something that in my eyes was a failure strictly speaking, seem to become so acceptable, so rewarding in the opening up of a diverse and rich set of approaches, discussions and exchanges on behalf of everything. That was the most extraordinary of experiences during the staging of Radio Three Terzi in a public space as an outdoor playground, a conceptual framework as New Spaces of Liberty, discussed extensively during the three-day Symposium "The Diagrammatic Practice of the Micropolitical, Zurich ZHdK Nov. 2013.
See also:
http://outdoorplay.tumblr.com/post/67803187276/symposium-14-15-16-november-brochure-the-diagrammatic.
I would like to warmly thank:
The Curators:
T. Melih Görgün, Dimitrina Sevova, Emre Zeytinoğlu,
Işın Önol & Mahir Namur
The Artists:
Lerna Babikyan, Timur Kivanc,
Fatma Sensoy, Yesim Uzunöz,
Aslı Çetinkaya & all the Sinopale Volunteers, you were wonderful.
Silvan Wirth Mechatronik Labor Muttenz,
Tobias Hoffmann HackLab Zürich,
Stephan Brunner, Arduino Stamm Kulturbüro Basel
thank you All.